What your customers say about you says more that anything you say about yourself, and what industry sources say counts nearly as much. Here are some testimonials and media reviews of Key West boats and KWBD. We hope they help you make a good decision on your next boat—and where you buy it.
"After to and froing for over 24 months on whether or not I should import a boat from overseas I finally made the decision to do it. The reality was the cost of importing a new boat and the build quality of US boats compared to buying one locally in Australia made the decision fairly simple. However I had the obvious concerns which to me were handing over a huge amounts of money when I hadn't seen or driven the boat and US boats not having a warranty in Australia. So the major thing for me was to find a boat brand that was trustworthy, reliable and a Broker or Salesperson who was knowledgeable on importing new boats from The States. I searched through plenty of forums and came across KEY WEST Boats. I couldn't find a bad thing written about them, they looked great and from all reports were fantastic boats offshore, reliable and best of all came with a 10 year Hull Warranty that was a worldwide warranty and not just restricted to the US. I started searching for a salesperson/broker to help me. After speaking with a couple of Australian based businesses, who sounded like low priced used car salespeople, I then came across Simon from Key West Boats Direct who is the agent for Australia/Asia for Key West Boats. I emailed Simon about some different models and finally decided on the 225DC. This model was never an option for me but Simon qualified that this boat would suit my needs far more than that of a Walk Around which is what I was originally looking at, he was right. Another advantage of using Simon was all boats sold to Australian customers came with a fully complied trailer and no modifications would have to be done before registration. I bombarded Simon with over 150 emails and to his credit every one of those emails were answered quickly.
After deciding on the 225 Dual Console I placed my order and left my deposit. One thing with importing a boat is the wait period after leaving the deposit. You need to be patient. Simon and the team down at Seaway Logistics made the importing process exceptionally easy and stress free. All I had to do was pay for the trailer permit and after several months I had news my boat was arriving in Brisbane. The pickup process was easy, as was organising for the trailer and boat to be registered. The boat ,with the new prop on it, is brilliant. It's exceptionally dry and stable when at anchor or drifting and can easily handle 5 men on board fishing with full tanks, fish and gear. The shape of the boat isn't only functional its also attractive with a guarantee of at least 2 different people coming up to you at the ramp to comment on the boat. To be fair I have had only one real issue in the whole process being the prop was the wrong size pitch. To Simon's credit as soon as I told him about it he had one on its way at no charge. It would have been too easy for Simon or Key West to say to someone on the other side of the world too bad that's what it comes with, but they didn't and that is just another reason why if you or someone you know is looking to import a boat from the US to not only buy a Key West Boat but deal with Simon from Key West Boats Direct. Thanks Simon from Key West Direct and Tom Marlowe from Key West for all your help in making this in the end a very easy and stress free decision."
– Nick Boucher (225DC), Brisbane
"Hi Simon, Had a good last comp to finish off the year. Attached are pics for our 2nd placing in the Derwent Bream Classic and also being presented 2nd place in the Angler of the Year Championship. The big fella is Andrew Pender my comp fishing partner. "
"Got to say that the Key West 210BR has been an absolutely fantastic tournament boat for fishing the bream competitions. It is fast, peaking at 90klm/hr; has enabled us to continue fishing in very shallow water as we did with my old tinnie – at one comp venue we drove it up onto the sand with the electric and cast for most of the day towards the shore across shallow flats. And it is damn comfortable, at three events this year we experienced 35+ knot winds, and in the Derwent on the weekend it gusted to over 45 knots. In our small systems here the effects of the wind and tide saw waves in some areas peak to well over 2m – if we were in a smaller boat it would have considerably restricted our range of areas to fish and consequently would have affected our finishing result. Got to say that at times the weather got pretty dangerous, but the 210BR just cut through the waves and when we took waves over the front we had considerable amounts of water in the boat and the self draining decks worked a treat. "
"When we consider the names and quality of anglers who beat us in the championship (and came third), we are so wrapt we had a KW boat to help us this season to be up with these anglers."
– Damien V (Key West 210br), Tasmania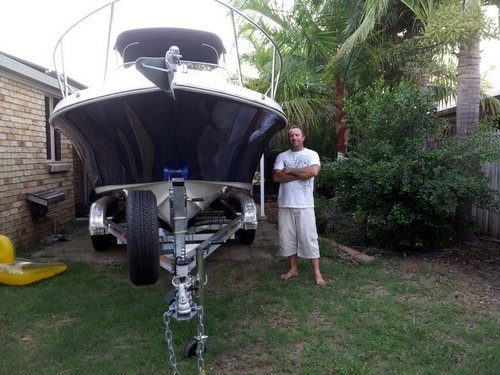 "I've read a few online discussions regarding KW Boats and KW Direct and it has all been positive. From my perspective, it has been easier, more informative and I know from the start what I am getting for my money (compared to Australia). It is only early days of the transaction, but I'm impressed by the quick response and information provided by you about the build and shipping process. It makes it all a little less stressful.
I would like to say the whole process dealing with you has been fantastic.  You made it very easy and I would recommend your company to anyone interested in buying a boat from the US.
I have been looking over the boat and I love it. The more I look at it the more I like it.  I havent even been in the water yet.  I have had a few people see it and they wanted to know your details, I told them to go to the website and request some info, dont know if they have yet.
Got the boat out on Sunday finally.  It was a bit choppy to start with but the boat was great, didn't worry it at all.  Was very stable while moving and at anchor, my 28ft Mustang moved around more than this boat. Have you been contacted by anyone referencing my name, someone I know was looking to buy and he said he would contact you.
Mate, thanks for all your help through the whole process, I will keep in touch let you know how it all goes, send you some pics of all the fish I catch."
– Peter D (Key West 211wa) – Townsville
Damien (Slick) Virieux's fully optioned up 210br with Suzuki DF200 in Launceston.
For some more pics and talk about it please visit the forum posts below.
http://www.breammaster.com/forum/showthread.php?t=49818
http://www.sportsfishtasmania.com/phpBB2/viewtopic.php?f=31&t=13936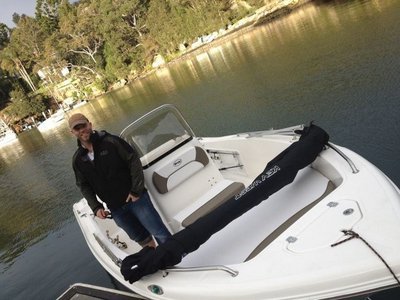 Hey there mate, Well finally wore the engine in for the 3 hours according to hand book and then wound her up to full noise on Saturday.
Beautiful ride, soft and quiet, got out through the heads and handled the rough stuff no problem, dry ride etc. awesome. Hit about 43mph almost flat stick still 1000rpm to go held at 5.
Franko
Mate, now have two NSS8 touch screens, structure scan etc all fitted out and will send photos soon but Radio and Sonic hub going in next weekend as well. Christmas will have auto pilot clicked in.
Went out through the heads in a 3.5m swell in the pitch black on Saturday morning torrential rain, 30 knot wind, gave my buddy a heart attack as we couldn't see the waves coming but I was turning into them as they broke, Ferrys going across the heads were halted as it was too rough but the Sportsman loved it! To rough to go out hunting tuna so turned back until we had some light to play with. Caught a bunch of good sized bonito in middle harbour though. Brilliant fun.
Heading out again soon and will get some photos for you mate.
– Francis C (Key West 176cc), Sydney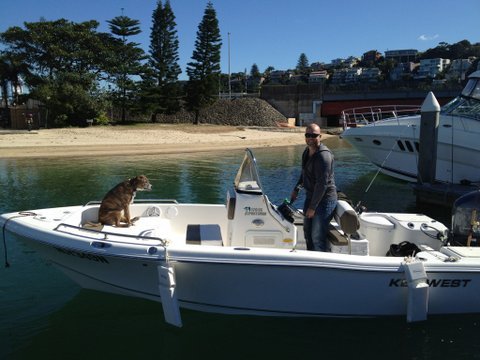 HEY SIMON,
GETTING CLOSE NOW, I HAVE SPOKE TO NIKKI, SHANON AND DEANNE AT ALLWAYS VIA THE PHONE AND THE SERVICE HAS BEEN VERY GOOD SO FAR. HOPEFULLY PICK UP THE BOAT ON MONDAY TO TOW HOME AND PUT TOGETHER.
THOUGHT YOU MIGHT WANT TO RETAIN THE TAX INVOICE FOR FUTURE REF FOR ANYONE CONTEMPLATING A PURCHASE AND DELIVERY TO FREO.THE FREIGHT PLUS GST AND COST'S ALL UP WAS UNDER $13,000 WHICH I THINK IS QUITE FAIR CONSIDERING A BROKER WOULD HAVE COST ME OVER $20,000 FOR DOING THE SAME THING. IT'S FUNNY REALLY I EXPECTED IMPORTING A BOAT MYSELF FROM AMERICA TO BE A BIT DAUNTING, HOWEVER IT TURNED OUT QUITE EASY IN THE END BECAUSE YOU DID EVERYTHING FOR ME.
THANKS AGAIN
HELLO SIMON,
I HAVE HAD THE BOAT OUT A FEW TIMES NOW AND I AM RAPT I CAN NOW GET TO MY FAVOURITE FISHING SPOT'S 20 MILES OFF SHORE IN HALF THE TIME,HALF THE FUEL AND TWICE THE COMFORT! – I HAD A 21 FOOT PLATE ALUMINIUM BOAT WHICH WAS GOOD BUT THERE IS NO COMPARISON TO FOAM FILLED GLASS!. JUST NEED TO GET ONTO SOME GOOD SIZE FISH FOR YU PHOTO'S!.THE THRU HULL TRANSDUCER TURNED OUT WELL – ITS A BIT OF STUFFING AROUND THOUGH IT IS WELL WORTH THE EFFORT.
SIMON CAN YOU PASS ON MY THANKS TO THE SHIPPING AGENTS AT SEAWAY AND ALLWAYS AS WELL THE SERVICE WAS VERY GOOD. I WILL KEEP YOU UPDATED WITH HOW THINGS ARE GOING WITH SOME MORE PHOTO'S SOON. UNFORTUNATELY ITS THE MIDDLE OF WINTER NOW AND IT'S BEEN BLOWING A GALE AND PISSING WITH RAIN EVERYDAY SINCE ARRIVAL.
– Brett W (Key West 2300cc), Ocean Reef, Australia
Good morning Steve,
Finally got the boat on the water yesterday. Great morning with slight cloud cover, gentle breeze and just a slight chop on the water. Travelled from Victoria Point to Peel & Goat islands which are in the southern part of Moreton Bay. Due to the run-in process couldn't really put her through to much but it did everything asked. Used the wakes of larger vessels at various angles and found the hull to be very stable and the ride was smooth and dry. The trailer worked a treat with boat coming on and off with ease. Even managed a snapper on the first cast of the day which hopefully is a good omen. Once again I thank you for all the assistance you provided and I look forward to many happy years of boating pleasure.
I have enclosed some photos off the initial unwrapping and on the water. We're not very good photographers so if you would like others let me know. (The woman in the boat helping unwrap waving is my daughter)
If you ever get down this way you always have a bed and boat and hopefully we can show you some Aussie hospitality.
– Ross Whittaker (Key West 176cc), Brisbane, Australia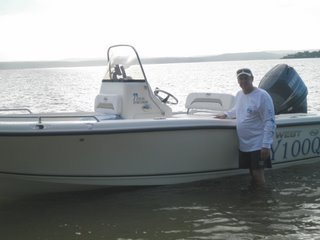 Hi Simon, picked up the boat from the trailer fitters today – too easy – great trailer btw was their comment. Wow, what a boat! I've owned a few local ones, Haines, CruiseCraft and checked out others, none of them are a patch on the Key West, totally different league for build quality, fit & finish, beautiful smooth, quiet running hull and all at about half the price!! Thanks for all your help, I don't think there is anyone in the Australian or American boating industry who has as much crossover knowledge about importing US boats to Australia. Big thumbs up. I'll be telling my mates. Feel free to stick this up on your site – hope it gets you some sales!
– Shane Ward, Australia
Hi, I moved to the coast last year and decided to take full advantage by buying a boat. This was a first for me. I did my research and discovered a few 'second hand purchase' HORROR stories. So, seeing as how I would be taking my family out (bar the wife who is a committed land-lover and gets seasick walking on a beach) I decided to buy new. Key West are simply the best value for money within their price range, i.e. for those of us who cannot afford an Azimut. You can buy cheaper spurious copies from obscure far eastern factories but I paid for peace of mind. God Bless Steve ( if there is a God ) because I bombarded the man with 1001 questions but he rose to the challenge and made the whole experience a very enjoyable one.
– Philip J. Keane, County Clare, Ireland
Thanks to the guys at Key West Boats Direct for the new KW 211 walkaround. Kids love it. We have been having the weather to just hang out off Rotto and fish the cathedrals for salmon, snapper and a heap of bream. With the storage areas that keep things dry, esky cold and the fresh water station makes the over night trip comfortable. Potty for the girls, swim platform and trolling holders makes it a fun school holiday for dad and the kids.
Been having such a great time with the boat and was well worth the wait. Thanks for the hassel free paperwork that goes with the importing. Glad I didn't try to do that by myself. And now I have something of value that didn't decrease in value when I drove it off the lot. Fully recommend using you guys to potential buyers of boats. I knew what I wanted and you delivered.
– Peter C., Rockingham, WA
In 2010 I had the pleasure of utilizing the professional services of Steve at Key West Boats Direct to find me my dream boat – a 225CC – have it shipped here and handed over ready to go, saving me at least 30% on buying locally. The only work I did was registering the boat and trailer. I have no hesitation recommending their services and look forward to when I want to upgrade!
– Blake Williams, Sydney, Australia
Just a quick note to thank you for your services and professionalism. It's quite rare in today's boat business that we run across people of your integrity. To be honest, I was a little nervous buying that first boat without seeing it first, but your description and assessment were right on. If anything, it was better than you described. All of our business dealings have been fair and easy. You have always provided the correct paperwork for each transaction. I look forward to a long and prosperous business relationship with you and your company.
– Anthony Cerrito, Owner, Boathouse Discount Superstore, Riviera Beach, FL
Dear Jack, It's not often in this life that you meet people that go that extra mile, especially in the business environment. This being my first year of trading as BW Sport Boats and my first trip to Florida purchasing boats, it was important to get it right the first time around. The chances of buying the wrong type of boat or falling prey to, shall we say not so honest dealers were pretty high, fortunately this didn't happen and the trip was a complete success. On a business front, I'd like to thank you for providing a service second to none. The boats offered and sourced were very high quality and fit my requirements to the letter. As I mentioned during my stay, you are most welcome at any time to stay with us here in Ireland, hopefully we'll be able to return the friendship and hospitality. If anyone is looking to do business with your company and needs a reference, just pass along my details and I'll let them know exactly what Jack Barker can bring to the table from a customer's point of view.
– Bob Wilson, Managing Director, BW Sport Boats, Naas, County Kildare, Ireland
I have very much enjoyed my dealings with Jack Barker. I have found him to be totally ethical in all dealings over the years and I plan to continue to do business with him and his company.
– Nick Hanna, General Sales Manager, Parker Boat Company, Winter Park, FL, USA
Just wanted to thank you for building such a great boat. Let me explain. On March 8 2011, I went fishing, (after checking the NOAA weather,) and after several hours got caught in a Bad storm off Marathon, Florida. I was out about 8 miles past the reef trolling for dolphin fish when the storm hit me. Winds up to approx. 60 mph, waves close together, were 6 to 8 ft. crashing over the bow. I was calf deep in water in the cockpit, but my 20 ft Key West boat would struggle up the face of the next wave and the water would run out the back over the splash well. This went on for hours, I even had to turn and run with the storm a couple of times. When crossing the reef my depth finder went from 25 ft to 37 ft in a split second. IT WAS ROUGH, REAL SPORTING!! A 35 ft boat sank that day.
– Captain L.T. Ward